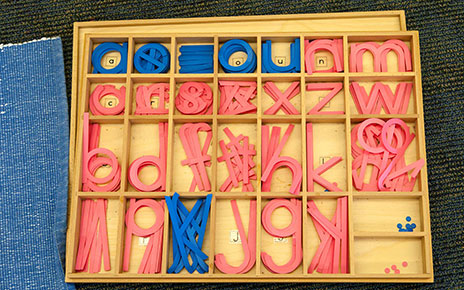 Dedicated, nurturing, degreed and accredited teachers implement a developmentally-appropriate toddler-designed curriculum to foster independence, cognitive and language development, speech, and strengthen fine motor and gross motor skills. The environment and curriculum fosters movement and introduces grace and courtesy lessons that promote focus and concentration. An important part of a toddler's developing independence is learning to care for him/herself.  
Toddler exercises and activities recognize that children learn by doing. Montessori materials are always accessible, attractive, safe, and geared for a child's success. Activities are changed in response to children's need for variety and challenge as they grow and learn. The safe, loving, gentle atmosphere puts children and parents at ease and makes for a trusting, spontaneous transition to school. Toddlers come to school five days a week, and may choose to stay for mornings-only or a full day. Upon completion of the Toddler program, children join our Early Childhood program.
Our Toddler Program welcomes children between 30 and 42  months of age. After the age of 42 months, a child may transition to the Early Childhood program if readiness is observed and space is available. The school day begins at 8:30 am and ends at 11:30 am for the half-day program, or 3:30 pm for the full-day program. Extended Day options are also available from 7:30–8:30 am and 3:30–5:30. 
We follow AMS accreditation standards, which promote large group size rather than low student-teacher ratios, allowing children to be more independent and develop intrinsic motivation. We have 1:5 ratio, with no more than 10 students in a classroom. There are two teachers in each classroom, one Montessori credentialed teacher and a teacher assistant.
Each of our toddler environments is prepared with developmentally appropriate materials and activities that support the child's natural development. The two main areas of focus in this program are the development of language and learning the skills for independence and social interaction.
Language development occurs through singing songs, listening to stories, classifying objects, and meaningful conversation.
Toddlers are driven to be independent so we offer them daily practice with preparing snack, washing dishes, watering plants, pouring, and dressing themselves.
We help toddlers with problem-solving and identifying their emotions and feelings. They also learn to take care of their environment by putting away their own belongings and returning work materials to the shelf.
We provide many opportunities for toddlers to move their bodies through dancing, running, jumping, and climbing.
The Environment
The toddler community is a rich educational environment, meticulously prepared to promote language development and movement. It is designed to provide children a social experience away from home. From washing hands to watering plants, children are engaged in real-life activities to encourage full-body movement and coordination. With a schedule that enhances daily and purposeful activities, the children are welcomed to an indoor environment divided into areas of work:
Practical life includes water activities, activities for taking care of the classroom, caring for self, cooking and preparing snacks, and learning grace and courtesy. Children are exposed to language materials to enhance their communication skills and enrich their vocabulary. Through self-expression activities like music and art, children become more full aware of colors, various materials, rhythm and melody. As children become self-aware of their capabilities, they are also introduced to an array of development-aid materials to perfect eye-hand coordination and to encourage the use of the hand and the fingers while also learning different kinds of hand grasps.
A Montessori concept we call grace and courtesy is presented to toddlers as a path to greater child dignity, helping them feel clean, gaining respect for others and themselves; promoting social relations, and learning and understanding the social expectations we have in our classrooms and in society. Children learn to greet others, and interact with one another.
Toilet Awareness
In the toddler community, our emphasis on independence extends to toileting needs. The toddlers are provided with the opportunity to learn how to become aware of their toileting needs and then are taught how to meet those needs. Following the guidelines and procedures of Little Angels Christian Montessori Academy, no child will be judged or shamed during toilet learning.